Frontiers in Chemistry

Armenia
Frontiers in Chemistry

Armenia
Social events
The following social and cultural events will be part of the conference program.
Conference banquet
The conference banquet was held on Wednesday evening, October 24th, at the Megerian Carpet Museum. During the banquet the Tatul Altunyan Armenian state song and dance ensemble performed several classical and traditional Armenian dances.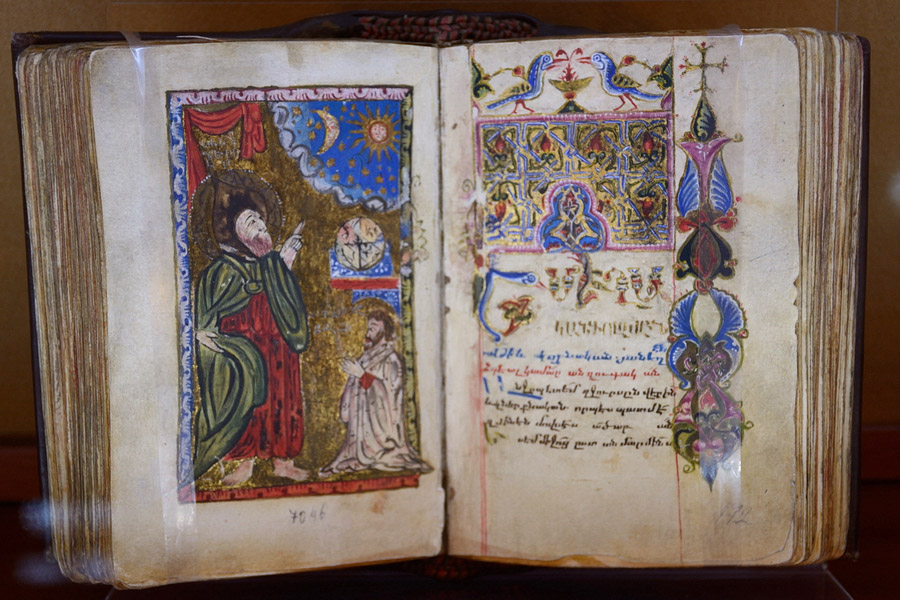 Old Armenian manuscript on display at Matenadaran.
Guided tour at Matenadaran
On Sunday evening the conference program kicked off with a guided tour to Matenadaran, which houses one of the oldest and biggest collections of ancient manuscripts in the world. The depository contains over 17,300 manuscripts, 450 thousand archive documents, and 3,000 ancient books. Over 14,200 manuscripts are in Armenian, the others in many other languages, among which Greek, Latin, Aramaic, Hebrew, Arabic, Persian, Old Slavonic, Ethiopic and Japanese.
Cultural excursion
Wednesday afternoon (October 24th) was dedicated to a cultural excursion. Under guidance of professional tour guides some of the major historical sites in Armenia can be visited.
Tsitsernakaberd -- First stop is the impressive memorial to the Armenian genocide, located in the outskirts of Yerevan and also providing a beautiful view over the city.
The hellenistic peristyle temple of Garni, originally built in the 1st century AD and restored by archeologist Sahinyan.
Temple of Garni -- Near the village of Garni, on a promontory jutting out into a deep river gorge, an ancient architectural complex has been unearthed. Once a fortress of the Urartian and Armenian kings, evidence of human occupation have been found, with the oldest dating back to the 8th century BC. A dominating place in the complex was taken up by a hellenistic temple, built in the 1st century AD. Destroyed by an earthquake in 1679, archeologists restored the temple in the last century. Apart from the temple, the remnants of the old fortress walls, a 7th century church and a 3rd century Roman bath house can be seen.
The Geghard monastery and the cliff face into which part of it has been hewn.
Geghard Monastery -- A UNESCO World Heritage site, the Geghard monastery dates back to the 4th century, when it was founded by Gregory the Illuminator at a sacred spring inside a cave. In later centuries it was expanded, with parts of the structure cut into the adjacent mountain. The main chapel of the monastry as it is today was built in the 1215 AD. The full name of the monastery, Geghardavank, means "Monastery of the Spear", after the spear used to wound Jesus during the crucifixion, allegedly brought to Armenia by the Apostle Jude and currently on display in the Treasury in Echmiadzin. Surrounded by impressive cliffs, the monastery is a unique site and one of the most popular touristic destinations in Armenia.